INDEPENDENT EATING
ELISpoon is a revolutionary spoon that enables independent eating for people with limited hand and arm mobility such as Cerebral Palsy, Spinal Cord Injury, or Post-stroke deficits.
By using the ELISpoon, the individual gains self confidence and recovers a sense of control.
The smart design allow you to easily interchange multiple attachments and use the ELISpoon as a tea spoon or a soup spoon suitable for both children and adults.
STABILIZING TECHNOLOGY
Counter weights and rotation axes keep the spoon bowl level regardless of how your hand or arm twists, bends, or moves, preventing food spillage.

Mechanical Solution
No electric part.
No battery. No charger.

Accessible
No age Limit.
Suitable for right/left-handed.
Easy to use
Dishwasher safe.
FDA materials.
Specifications of the ELISpoon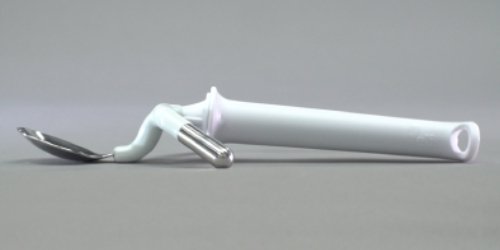 Teaspoon and Soup Spoon:
Total Length: 20 cm respectively. 21 cm
Total Width: 9.4 cm respectively. 10.5 cm
Handle: 12 cm Length and Approx. 1.9 cm Diameter
Weight: 68 g respectively. 78 g
Metal spoon head Length : 4.5 cm respectively 5.5 cm
Metal spoon head Width : 2.7 cm respectively 3.7 cm
How is ELISpoon different from regular spoons?
ELISpoon is easy to use.
Whatever movement of the wrist is performed, the bowl of the spoon remains horizontal and keeps the food in place.
The material used is lightweight and strong. A key characteristic is the spoon's affordability.
There are no electrical components or batteries, making it carry anywhere and to clean.
ELISpoon is a product designed and built to ease the life of the users and their love.
What is the benefit of using ELISpoon?
Using ELISpoon, the individual gains self confidence and recovers a sense of control.
Everyone should enjoy and share moments of conviviality at the dining table, which in essence brings people together and blurs differences.
That's what Eli is about. Helping individuals achieve an ability to participate in basic commonplace daily activity.
How did you come up with the idea of ELISpoon?
At Eli's we are passionate about finding assistance solutions for the impaired.
Families with a handicapped member experience stress and a variety of potential problems.Meal time is one such problem. Meals present challenges, which our team views as opportunities for creative problem solving.
For people suffering from limited fine motor control, hypotonia, cognition deficits, poor coordination ,etc., meals are usually not a pleasing experience.
We decided to tackle the problem and effectively bring back the fun to this day-to-day activity.
After months of research and development, ELISpoon was born.
Where can we buy the ELISpoon in Canada?