Imagine a dining experience undaunted by limitations.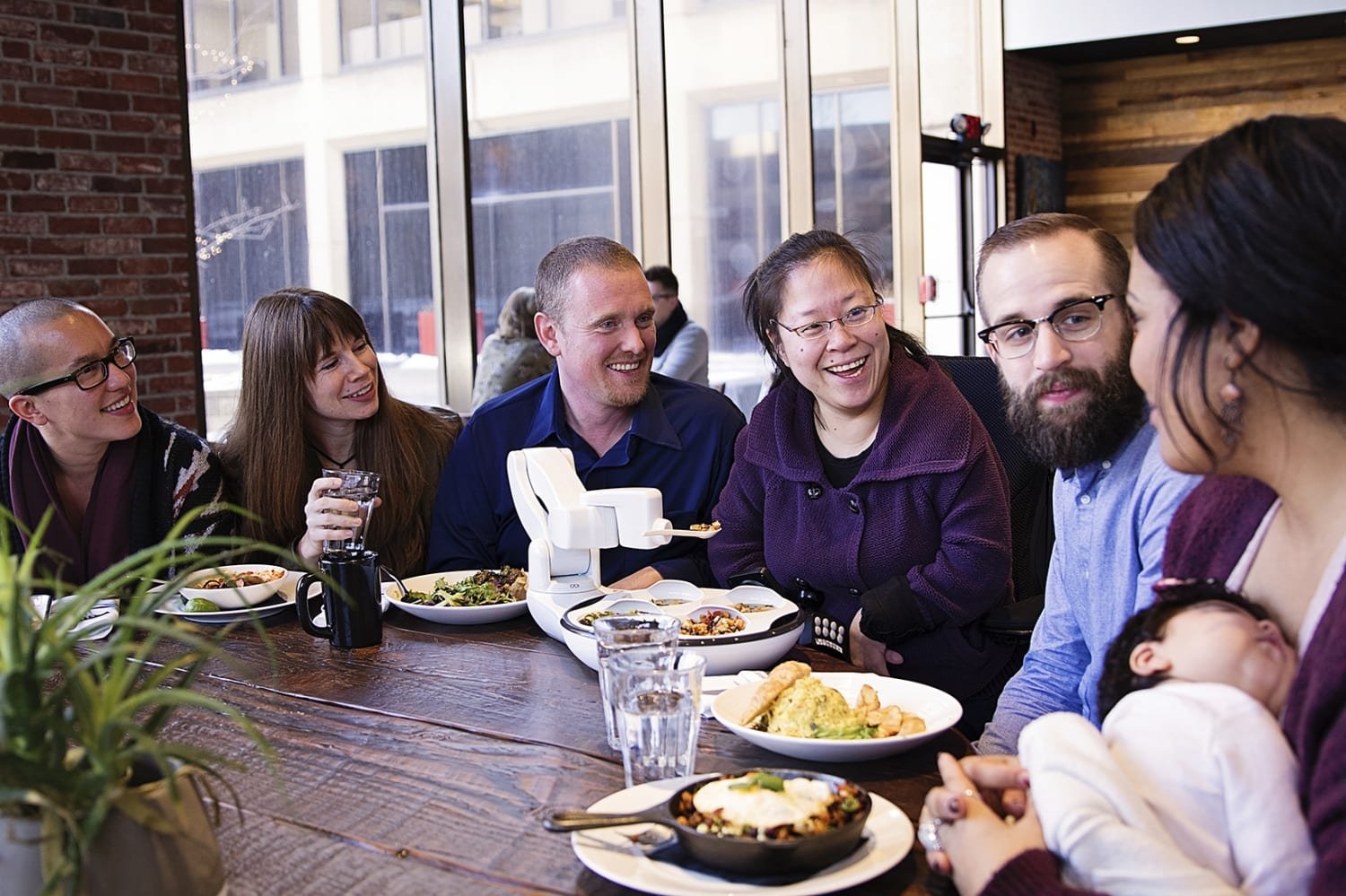 Obi is a first of its kind, revolutionary dining device for individuals who lack upper extremity function. Obi increases independence, social interaction, and effective food capture like never before.
With the momentary touch of a switch, Obi allows users to select between four compartments of food and command when the food is captured and delivered to the mouth.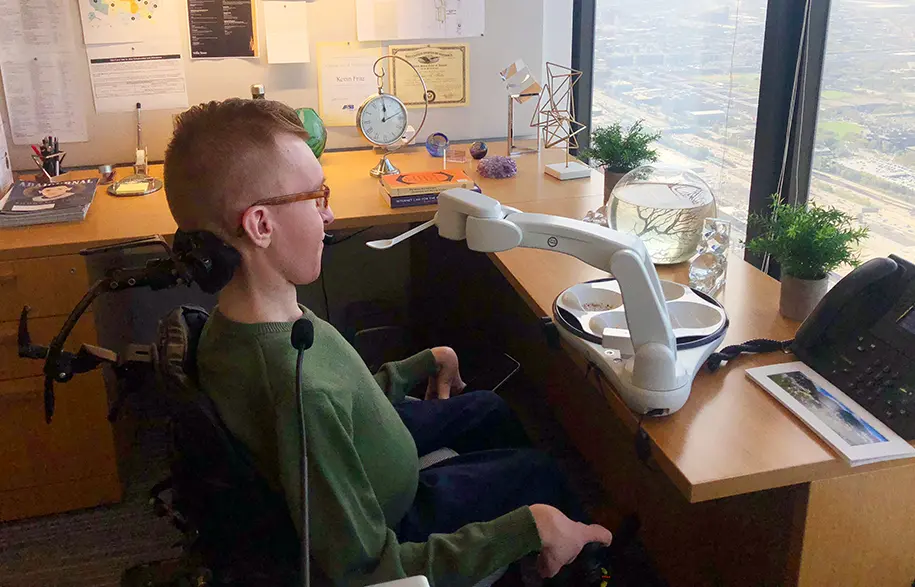 Diner Spotlight: Kevin
"I love Obi because it gives me a sense of independence and freedom to have choices about what I eat throughout the day, when I eat throughout the day, and just really allows me to have energy throughout my day so that I can do my job and be productive. So it's changed my life!"
EFFECTIVE FOOD CAPTURE
Automated multi-directional food capture, portion control, spoon wiping, and food re-positioning keep food transfer efficient.
SMOOTH MOVES
Graceful, life-like motions, smoother than a human arm, avoid unwanted drips and splashes.
HAND-GUIDED TEACH MODE
Quickly and intuitively select a food delivery location from thousands of possibilities within a large volume of space.
PERSONABLE CHARACTER
Six Degrees of Freedom (motors) enable intuitive, animated gestures.
SIMPLE & INTUITIVE DINER CONTROLS
At the click of a switch, the diner initiates the bowl selection command or food delivery command.
Switch Operation
Obi is controlled by any part of the body that can activate a switch. Obi is compatible with any switch that utilizes a 3.5mm headphone jack adapter.
Reusable Spoons
Food safe material, BPA-free, dishwasher safe, two sizes available, magnetically attached.
Weight of a Laptop
At 7 pounds, Obi can be picked up and transported without strain.
Reusable Plate
Food safe material, BPA-free, microwave, and dishwasher safe.
Rechargeable Li-Ion Battery
3-4 hours of use per charge. Use Obi on the go!

Smaller than a Placemat
At a dinner table, Obi won't take up more than standard personal space.

Collision Detection
Stops and backs away for safety in the event of misuse.
Anti-Slip Surface
Latex-free, elastic over-mold helps keep Obi stationary during meals.

Water Resistant
Wipe down or disinfect the device after a meal.
Trial Program
The Obi Trial Program provides the perfect opportunity for clinicians to introduce Obi's features to potential diners.
A diner enjoys Obi at the Grace Heights Health and Rehabilitation Center
Source: Carolinas HealthCare System Blue Ridge
Purchase, Insurance, and Funding Options
Through our global partner network, we are able to offer a variety of purchase options. Whether you are interested in self pay, filing for insurance reimbursement or utilizing VA benefits, we work with several third party providers who can assist you with your best option. If you would like detailed pricing or reimbursement information, please contact us and we will be happy to introduce you to one of our partners in your area!
Your Obi purchase includes one Obi robotic dining companion, one set of black Buddy Button switches, one plate and placemat, two magnetically attaching spoons (small and large), and charging cable. A 1-year Limited Warranty covers any defective material or workmanship under normal use. 12-month and 24-month Extended Warranties are available for purchase within 30-days of your purchase date.
Many of Obi's diners prefer to submit for private insurance or Medicaid reimbursement. We are privileged to have partners in every state who are available to arrange demonstrations, assist with funding/insurance reimbursement, and provide day-to-day assistance to both the diners and their clinicians. If you are interested in pursuing reimbursement, please contact us and we will be happy to connect you with one of our partners in your area!
The following information may be required to ensure a successful insurance submission:
Completed Diner Intake Form | Provided by Diner | **Click to download**
Letter of Medical Necessity | Provided by a Medical Professional | **Click to download**
Quote for Obi and optional accessories | Provided by Obi Robot
Doctor's Order or Prescription (if required) | Provided by a Medical Professional
Obi Robot is proud to be a contracted provider on the Federal Supply Schedule under the GSA Advantage Program! We are proud to work with nationwide VA Hospitals to provide independent dining experiences to our honored Veterans!
"I'm a US Navy Veteran with ALS and recently received my Obi. As a result of eating with Obi's assistance, I've been able to maintain my weight and, of equal importance to me, I'm able to eat independently and enjoy dining with my family. Please know Obi is much more than a product you sell; Obi is a mans to independence and restored joy while eating."
– Shelly H. | United States Navy Veteran
If you have obtained a State Waiver, reimbursement is a possibility if your insurance companies have denied your submission. The following documentation is needed for Waiver reimbursement:
Denial letters from your insurance companies
Letter of Medical Necessity | Provided by a Medical Professional | **Click to download a sample**
Quote for Obi and optional accessories | Provided by Obi Robot
Doctor's Order or Prescription (if required) | Provided by a Medical Professional
Various Advocacy Groups may have loan closets that can supply you with an Obi or provide a grant to help pay for Obi.
Luca's Success Story
We met Luca traveling to one of our favorite tradeshows, the annual Arthrogryposis convention through AMCSI. He and his family instantly fell in love with Obi. His family setup a GoFundMe page and within 14 hours, they reached their entire goal!!
Click here to view Luca's GoFundMe campaign!
From the Dining Room Table
Learn how Obi is empowering diners all across the world!